THE GAME – A THEATRICAL DANCE PRODUCTION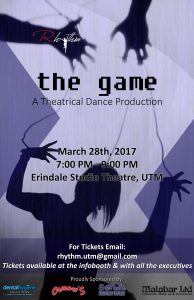 Following the huge success of our theatrical dance productions "A Chance to Dance", "Find Your Rhythm", "FIREPROOF" and "Paradise & Warzone"Rhythm Performing Arts Presents it's 5th annual theatrical dance production,
The Game
A suspenseful story that takes you through the moral dilemmas of the human psyche. If you dare to believe that every action we make, vicious or righteous, is in the hands of someone always watching you, then this is the show for you! Marvel in the dance and passion that will bring you to the edge of your seat at every twist and turn! There is no other dance team as dedicated and creative on UTM as Rhythm – and this show will prove it!
DATE: March 28, 2017
TIME: 7PM – 9PM
Admission Fee: $10 – $15 at the door (refreshments included)
LOCATION: ERINDALE STUDIO THEATRE, UTM
Tickets go on sale Friday, March 17th, 2017
Available at Student Centre (Info-booth) and with all executives.
For tickets contact:
Anshita Khanna: 647 643 1494
Paul Rodriguez: 647 997 9339
Proudly Sponsored By: Dental Hygiene Solutions, Osmow's Grill, Erie Meats Factory Outlet, Malabar Limited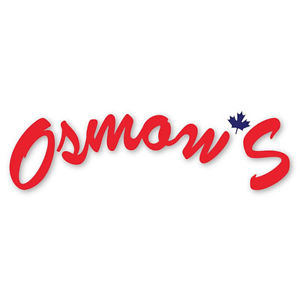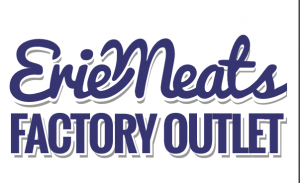 Parking and Directions
https://www.utm.utoronto.ca/english-drama/sites/files/english-drama/public/shared/Theatre-Erindale/images/ESTMap%20copy%20apr%2025%202016n.pdf
Email us at rhythm.utm@gmail.com for any questions or concerns.
**DISCLAIMER**
All characters and their names that appear in this show are fictitious. Any resemblance to real persons, living or dead, is purely coincidental. The choreography, costumes, and props are completely original and created by the choreographers of the show. None of the songs, acts or dance styles are in any way favoring any singer, song album, religion or ethnicity.
***Strobe lighting effects will be used during this performance. Patrons that may suffer from epilepsy & other visual light stimulation effects are advised to contact the Front of house staff, prior to entering the theatre!***