BHARATANATYAM (INDIAN CLASSICAL) DANCE WORKSHOP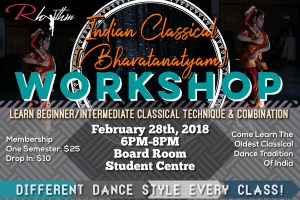 For our last workshop of February we are going to teach BHARATANATYAM (Indian Classical) – a pre-eminent Indian classical dance form presumably the oldest classical dance heritage of India is regarded as mother of many other Indian classical dance forms. A form of illustrative anecdote of Hindu religious themes and spiritual ideas emoted by dancer with excellent footwork and impressive gestures
Taught by Ansu Roy, in this 2 hour workshops you will learn basic stance and posture; technical elements of rhythm and body movement; and finally a short choreography that incorporates all elements into one!
Wednesday February 28th – 6PM – 8PM in the BOARD ROOM, Student Centre
Our workshops have provided many dancers and non-dancers alike an avenue to open to new styles, but we still have so much more to provide to you. Our series have helped you get into the groove with the many different styles and genres we know you love! Learn from real dance professionals and guests choreographers all year!
Our series runs bi-weekly for the entirety of the 2017-2018 academic year for a very accommodating and student friendly fee:
(1) Drop in classes, one class payment of $10
(2) Try all the classes offered in one semester for $25
(3) GREATEST VALUE: Full year payment allows you to come to every single class offered until spring of 2018 for $40